Oh, the holidays! Who doesn't love the festivities and the time off? Well, if you're a social media manager or a small business owner, you might actually dread them. So, let's take a look at how you can minimize the stress and focus on the good times. Your friend? Meet social media automation. Just in time for the holidays.
So let me show you how to automate social media during holidays 😉
In this article, you'll learn:
How to automate publishing on social media,
How to automate comment moderation on Facebook and Instagram (Ads included),
How to shield your posts from any kind of spam and inappropriate comments,
The holidays are a busy time for e-commerce businesses
And "busy" is an understatement. Because who's going to answer all these questions? Who's going to share content? What if something blows up and you're not there to see it? (Okay, I know you will probably keep your phone handy, even when you're off to spend some time with your fam – been there, done that).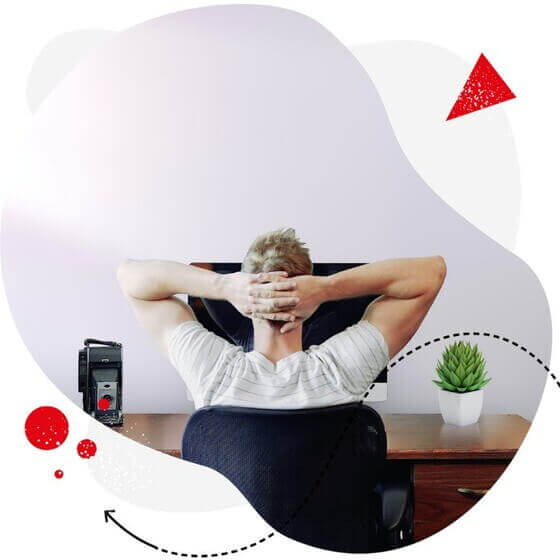 Automate Social Media During Holidays
Automate social media comment moderation (ad comments included), social media scheduling, reporting & more, just in time for a vacay! Try NapoleonCat for free:
Try NapoleonCat free for 14 days. No credit card required.
I'm taking a guess there's no one to step in for you while you're on a deserved break – or drowning in orders that need to be shipped just in time for Christmas (choose the one that applies)
And all that time, holiday shoppers keep asking questions, commenting on your promos and ads you now have running by the dozens. It's a whirlwind, and you're in the middle of it.
Let's take a look at a few numbers, shall we?
According to Statista, here's the percentage of US shoppers who plan to use social media for their holiday shopping over the past ten years: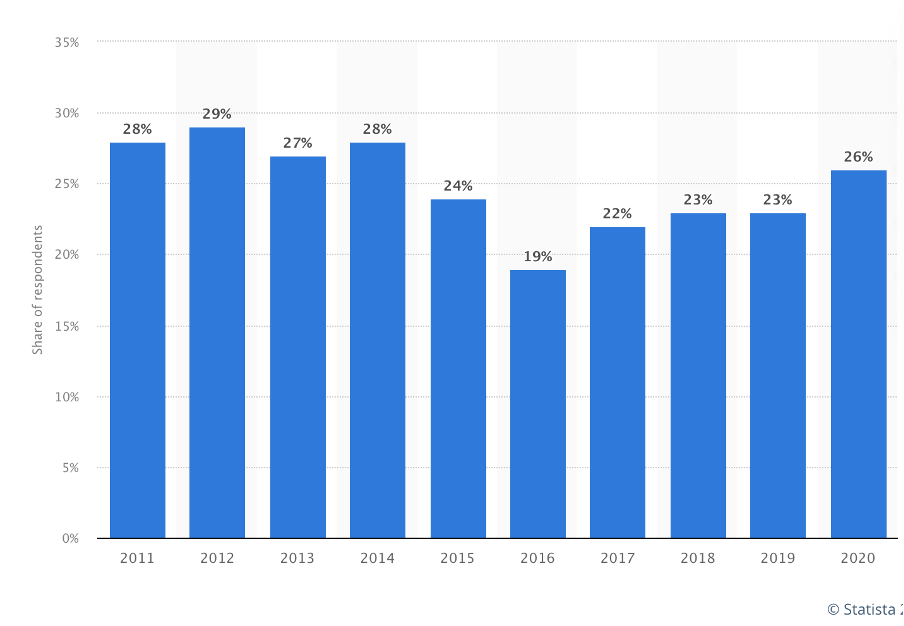 According to Software Advice, social media is the top and most used channel by retailers to reach shoppers for holiday promos – and it delivers the most ROI.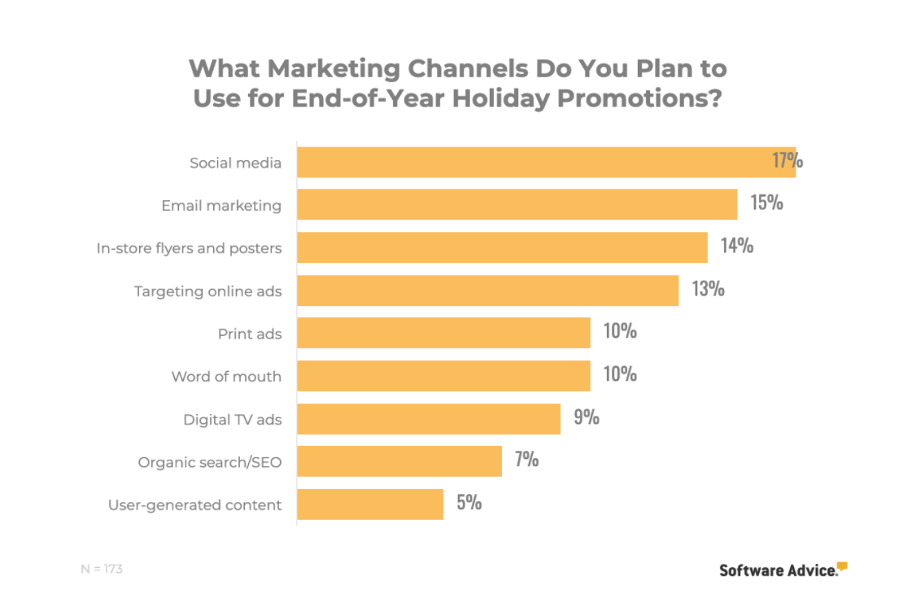 And according to CrowdTap, 67% of shoppers purchased a gift they found on social media. (Here's a handy infographic with all the data).
All that and more attests to the fact that social media channels are crucial for holiday sales. But this isn't really about whether you should invest in social media promotions during the holiday period.
It's about making things easier for you – especially if you don't have a team or have a small one and are physically unable to handle some of the tasks that go with it. Or just want to keep your sanity over the busiest shopping season.
Here are some things you could do to achieve that (and have a more relaxing holiday time this year).
How to automate social media during holidays
Let's look at some concrete ways to automate your social media during holidays, so you can freely relax on a beach with a drink in your hand 🏖 .
Schedule your social media content
To save yourself some precious time and focus on other things going on, take posting on social off your plate for the holidays.
Make friends with your social media scheduling tool. (Pssst, with NapoleonCat, you can schedule automated content for:
Instagram
Facebook
Twitter
LinkedIn
Google My Business
This way, if you plan ahead, you can focus on other things while the posts are automatically published on different social media platforms. With the color-coded labels, you'll know what's going on at a glance – and so will your co-workers who manage social media posts along with you.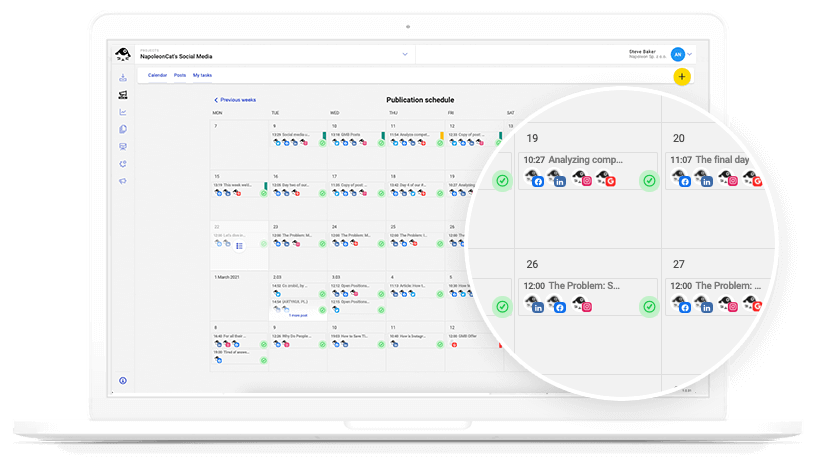 Yes, NapoleonCat's Publisher lets you collaborate with other team members, delegate tasks, send feedback, and approve posts, so it's a team effort (if you have the comfort of having a team to support you).
If you're on your own, though, the Publisher is your hub for planning and scheduling your content ahead of time.
Bonus tips:
Use appealing images to go with your social posts and catch your readers' attention. If you're using stock photos, pick the ones that are original and don't look like hundreds of others that your readers will see in their feeds (and eventually become blind to.)
Keep posting about your promos frequently. With how social media algorithms work, only a fraction of your fans or followers will see them at a given time, so don't assume everyone's already seen them – they probably haven't. This is especially important if you run time-limited promotions.
Remind your customers when they should order to receive their gifts on time. With delivery companies being strained over the holiday season, this'll help avoid unpleasant surprises.
Reshare old popular posts over the quiet times – especially those that are still on point, but many people missed it, or you've seen growth in your follower count since publishing them.
Get festive! And have some fun while you're at it.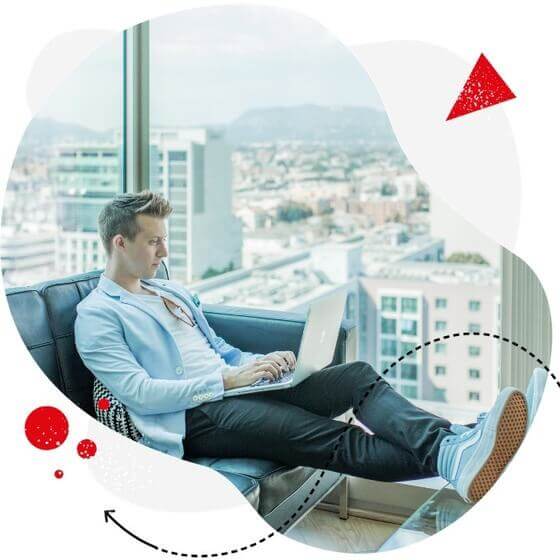 Schedule posts for FB, IG, Twitter, LinkedIn, and Google My Business
Schedule posts across multiple accounts and social networks at once. Try NapoleonCat for free:
Try NapoleonCat free for 14 days. No credit card required.
Automate some of your customer service on social media
If the sentence above makes you cringe, time to look at it from a different angle. I'm not telling you to make your customers talk to robots.
Marketing automation in customer service helps you save time and stress – and you can do it in a way that still feels human to your customers. You are human, after all, right?
Here are some things that you can do:
Set up automated replies to frequently asked questions
The kind of questions that can be answered in a straightforward way. These can be questions about sizing, delivery times, hours of operation, ways of reaching your customer service team, etc.
These really don't require engaging a human every time – and the time you save can be spent on other urgent tasks.
In NapoleonCat, you can set up several responses to the same question, so it feels even more human. But the general rule of thumb is to write your answers in a human way in the first place.
NapoleonCat's Auto-moderation works for Facebook, Messenger, and Instagram (comments). To set up an auto-moderation rule, analyze the keywords that frequently appear in popular questions – and ones that are straightforward enough that they won't lead to a mixup (as in you replying with something completely unrelated to the question.)
Setting up an Auto-moderation rule is really quick and easy, it usually takes a minute or two. Plus, you can create as many rules as you'd like, all with different automatic reactions based on various triggers of your choice.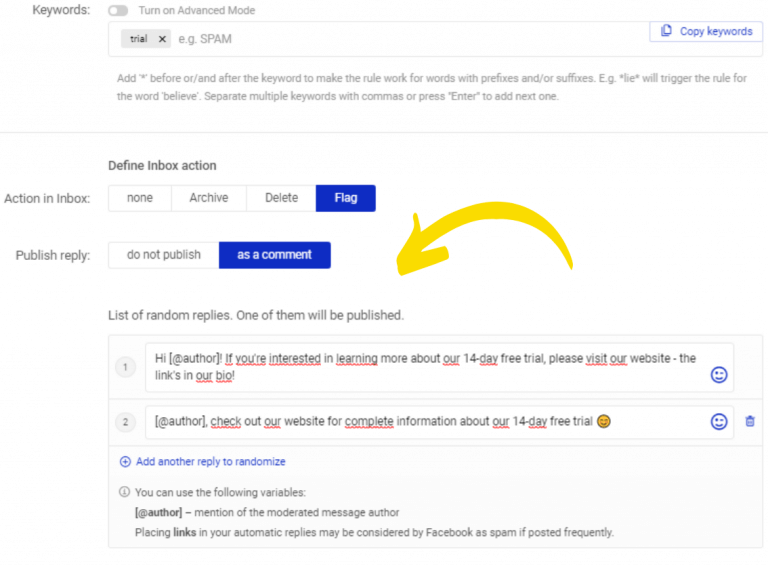 Automatically move to DMs on Facebook when necessary
If you've been selling or providing customer service via social media, you know that the holidays can be extremely busy with inquiries about orders and shipping, complaints, etc. And to be able to resolve any of these, you'll most likely need the order number or some other details that shouldn't be disclosed publically.
You can automate the first step by automatically sending a private Facebook message to that person asking for the details. These messages can be based, again, on keywords you expect to appear in posts like this.

Automatically redirect issues to designated consultants
Another time-saving feature is being able to automatically redirect customer service tickets to your team members and notify them of a post they need to take care of. Your team members will be notified via e-mail.

This will save you some time on pre-moderating the tickets. You can choose to notify a team member to answer comments on specified posts or reviews or comments on an ad (more on that later).
Bonus tips:
Consider all customer scenarios ahead of setting up your rules to make sure your automated replies aren't confusing or out of place.
Always provide several options for replies so that people asking similar questions, e.g. under one post, see different answers, and not just the exact same one posted multiple times (this can be really annoying, and I totally get why.)
Stay human – in your automated comments and replies. Empathize with your customer and craft a response that you would like to get yourself if you were them.
Automate answers to both pre- and post-purchase questions, so you can keep your customer engaged even outside of your team's work hours – or when you know you'll be really busy and won't be able to answer immediately
Manage your customer's expectations – let them know when approximately someone will reach out to them or be able to resolve their issue.
Remember – timely replies will help you boost engagement on your posts, and automating them is helpful.
Automate Facebook and Instagram ad moderation
During the holiday season and the time leading up to it, you might have more social media campaigns running for all your promos. And more ads means potentially more customer interactions and comments that you might have difficulty keeping up with using Facebook alone.
I mean, all the campaigns, ad sets, and variants for the different audience segments and different products. Plus, retargeting ads, lookalikes, etc. It might really amount to a lot.
Along with a large number of user interactions, which often get lost in the noise. And with them, some possible missed sales or brand-building opportunities.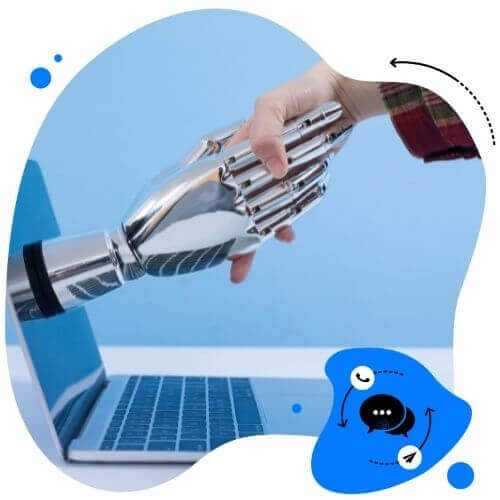 Automate Comment Moderation for Facebook and Instagram Ads
Set up smart auto-replies for comments under your ads, automatically hide and delete spammy comments based on keywords of your choice. Try NapoleonCat for free:
Try NapoleonCat free for 14 days. No credit card required.
Here's where NapoleonCat comes in.
In the platform, you can auto-moderate comments to ads on Facebook and Instagram. This is super important when you have lots of ads and not enough internal resources to handle the comments. Plus, usually a completely different team member or contractor to manage the ad setup and budgets, who might not be authorized to respond to people on social media.
Here are a few things you can automate:
Automatically hide comments with links
This will prevent your competitors (or spammers) from benefiting from your audience's attention and messing with your click rates.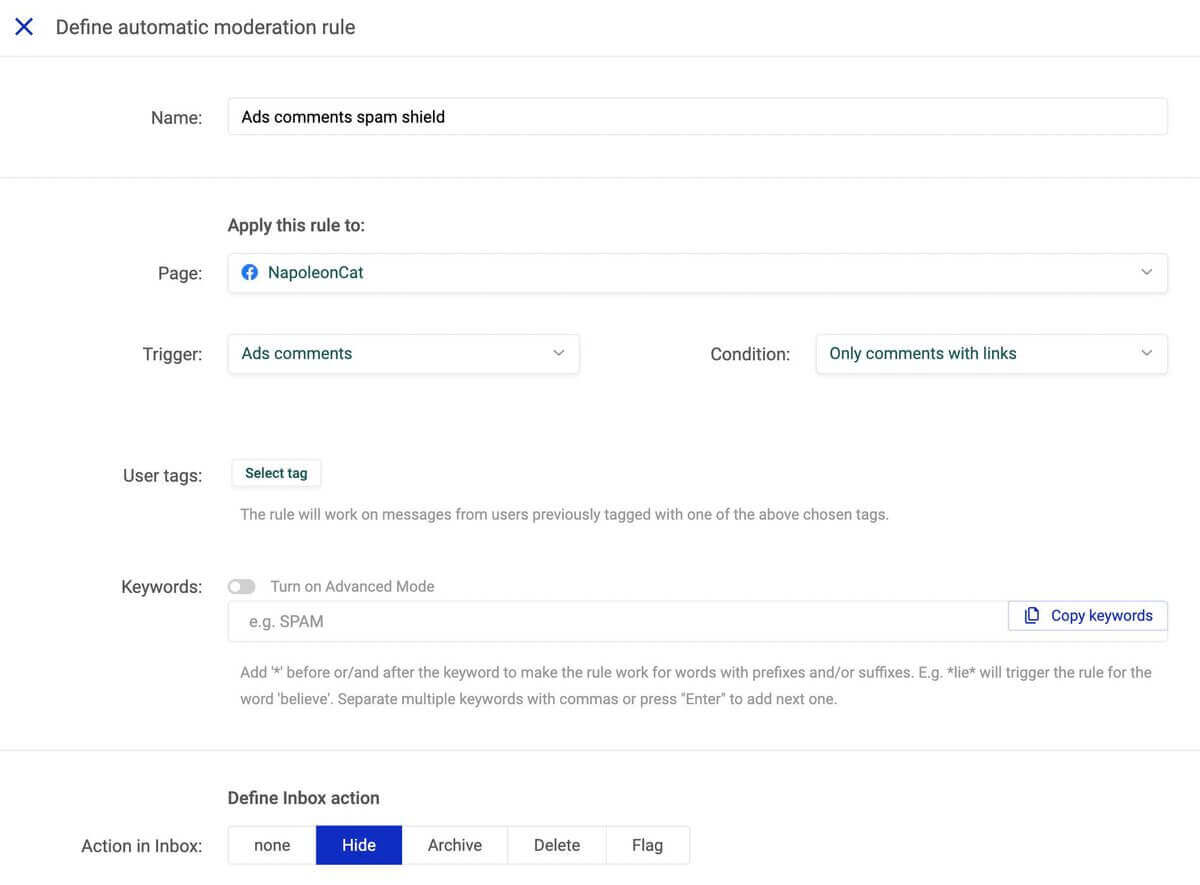 Remember, you're the one paying for placing the ad in front of your customers' eyes. Don't let your budget go to waste – or benefit your competition.
Automatically delete spam and inappropriate content
Ever seen an ad that looked great, but the comment section didn't – full of profanities and other content that takes away your attention from the ad itself?
I know I have. And comments like that – especially if not moderated – will make me feel like there's no one really monitoring what's going on with the ad. This, in turn, is not a great trust-building tactic, to say the least.
Managing your ads doesn't only mean monitoring the spend. It also means monitoring what interactions they trigger – beyond clicks. Something many advertisers seem to forget.
With NapoleonCat, you can set up rules to automatically delete these comments based on specified keywords. And never again worry about the f-word popping up along with your Christmas promo.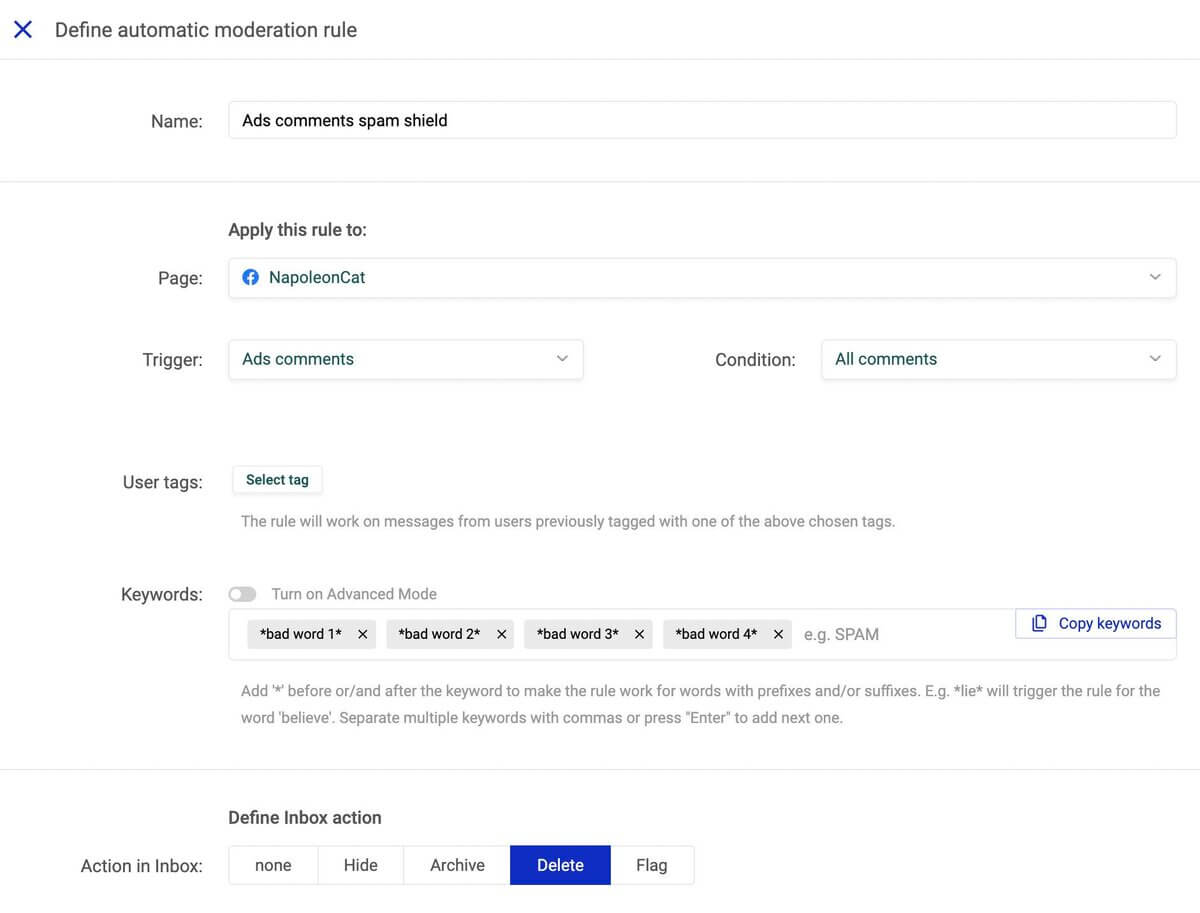 Showcase great social customer service
Which brings me to the next point. Answering and interacting with comments below ads is a clear sign the company has it together and cares about its customers – who often ask questions below ads, for example, about the product advertised, expecting (rightfully so) a reply.
Or they're leaving a review of the advertised product – and it can go two ways. In either case, you should be on top of it and reply. Thank for the good review (and give your engagement rate a boost) or handle the issue in the bad review (and save your brand's image).
In both cases, you're showing your customers you care about them and building your brand reputation (yes, you're doing that with every single reply to your fans and followers.)
Bonus tips
Don't be afraid to delete comments that are hateful or otherwise offensive and inappropriate. This is your paid content that gets in front of the eyes of thousands (or more) of viewers.
Remember, though, that social media ads are a little different from other display ads – mostly because people *can* respond. Social media is a two-way conversation, so prepare to engage back, and don't leave your audience hanging.
Ready for your holiday campaigns?
There's still time to sort them out. But the more you plan ahead (and automate), the less stressful the shopping craziness will be for you and your business. And honestly, who needs more stress these days?
So think about what and how you can automate this holiday season to make business easier while selling more and making your customers happier with the best service they've yet received.
Good luck!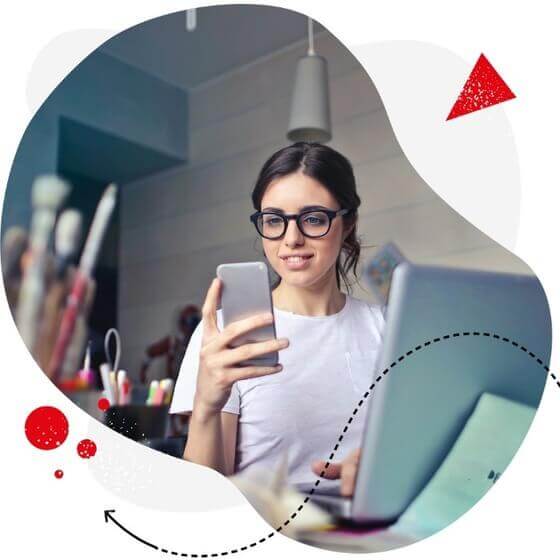 Automate Your Social Media Marketing
Schedule your social media posts weeks ahead. Protect both your organic & paid content from spam and inappropriate comments, set up automatic social media reports, and more! Try NapoleonCat for free:
Try NapoleonCat free for 14 days. No credit card required.